RadioZamaneh > Radio Zamaneh in English > Latest News > Ahamdinejad criticizes Russia's recent actions
| | |
| --- | --- |
| RadioZamaneh | Date of Publish: ۵ خرداد ۱۳۸۹ |
Ahamdinejad criticizes Russia's recent actions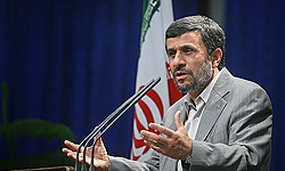 Mahmoud Ahmadinejad

Mahmoud Ahmadinejad criticized Russian stance against Iran's nuclear dossier and warned Kremlin that they should take care not to turn into Iran's "historical enemies."

Fars news agency reports on Wednesday that Ahamdinejad during a speech in Kerman addressed Dimitri Medvedev the Russian President saying that Tehran-Moscow relations require "mutual respect."

Ahmadinejad went on to say: "Today, explaining the actions of the Russian President to the Iranian people has become difficult. The people wonder whether they are our friends, whether they are beside us and with us or if they have other objectives."

He urged the Russian president to make greater effort in considering issues pertaining to Iran.

He claimed: "Iran would not act against the interests of Russia simply because it is under pressure from another source."

Russia, which has often acted as an Iranian ally in the international arena, has cooperated with the new US initiatives to step up sanctions against Iran.

Ahamdinejad also addressed US President saying: "Mr. Obama should realize that the Tehran agreement is a historical opportunity for him and reveals Iran is willing to make changes."

Iran has finally agreed to allow for exchange of uranium with the West as they had called for in the Vienna negotiations outside of its territory. Tehran has agreed to make the exchange on Turkish territory.

The Vienna negotiations reached an impasse when Iran refused to swap its low-enriched Uranium with high density Uranium outside Iranian territory.

US administration has worked hard in the past month to commence a new set of sanctions against Iran and much of these efforts revolved around drawing the agreement of Russia and China, two permanent members of the security council that have repeatedly blocked UN sanctions against Iran.

At the threshold of introducing the first draft of the new sanctions at the UN, Iran signed the Tehran nuclear swap deal. However the US and some European countries claim the agreement is still incomplete.