RadioZamaneh > Radio Zamaneh in English > Latest News > Iranian opposition officially requests demonstration permit
| | |
| --- | --- |
| RadioZamaneh | Date of Publish: ۱۰ خرداد ۱۳۸۹ |
Iranian opposition officially requests demonstration permit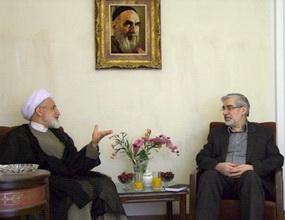 Mehdi Karroubi and MirHosein Mousavi

Iranian opposition leaders, MirHosein Mousavi and Mehdi Karroubi made an official application to the Ministry of Interior for a peaceful demonstration on June 12.

The application was delivered to Tehran governor's office today in the form of a letter prepared in the course of a meeting between the two leaders.

The letter indicates that the march will start at Imam Hussein Square and end at the Azadi Square.

June 12 is the anniversary of the controversial presidential elections of 2009 which brought Mahmoud Ahmadinejad back to another term at the presidency.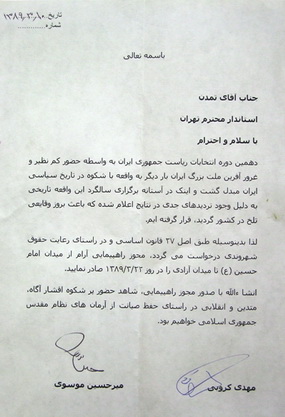 Letter of request for peaceful demonstrations in Tehran on June 12

Mousavi and Karroubi are the two disputing candidates of the elections which have challenged the outcome of the elections and refused to accept the legitimacy of the consequent government.

Saham News published the details of the meeting between the two opposition leaders and reported Mehdi Karroubi's criticism of growing social restrictions and the government's cancellation of events for the annual commemoration of Ayatollah Khomeini's passing at Jamaran.

Iran's Revolutionary Guards and Basij Forces along with some members of Mahmoud Ahmadinejad administration have announced that they will hold the commemoration services for Ayatollah Khomeini with two million participants.

The service is scheduled to be carried out this Friday on June 4 at the tomb of the founder of the Islamic Republic with Ayatollah Khamenei in attendance.