RadioZamaneh > Radio Zamaneh in English > Latest News > Reporters Without Borders concerned for missing Iranian journalist
| | |
| --- | --- |
| RadioZamaneh | Date of Publish: ۲۰ تیر ۱۳۸۹ |
Reporters Without Borders concerned for missing Iranian journalist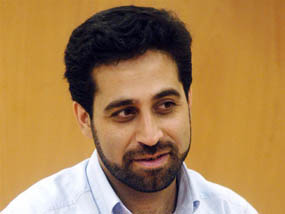 Abdolreza Tajik

Reporters Without Borders issued a statement today warning that Abdolreza Tajik the "missing" Iranian journalist may become "another victim of the Iranian judicial system."

Abdolreza Tajik who also collaborated with Iran's Human Rights Defenders Centre was arrested for the third time in the last year on June 13.

His family has announced that they are gravely concerned for his well-being and have not been informed of his whereabouts.

Shirin Ebadi, Iranian Nobel Peace laureate and head of the Human Rights Defenders Centre also expressed concern for Tajik last week and questioned Iranian authorities asking: "Have official government forces arrested this journalist? Is he all right? Is he basically alive?"

According to Reporters Without Borders, "cases of detainees being held incommunicado can be regarded as forced disappearances and as crimes against humanity. They constitute violations of international law," and it urges the international community to take action against it.

Meanwhile, Reporters Without Borders also refers to the murder of Zahra Kazemi, Iranian-Canadian photojournalist who died while in detention in Evin Prison in 2003.

The press rights group expresses support for the civil lawsuit brought against Iranian government by her son, Stephan Hashemi before the Quebec high court claiming damages for his mother's arrest, detention, torture and death. It also urged Canada and the European Union to support Hashemi's efforts.

Iranian authorities have announced that Zahra Kazemi died from a head injury but no one was ever brought to trial for her murder in Iran.

Reporters Without Borders refers to Saeed Mortazavi who interrogated Zahra Kazemi as one of the main suspects in her murder.

Saeed Mortazavi who was Tehran's prosecutor at the time of Kazemi's murder was removed from that position last summer and became head of Iran's Anti-smuggling Squad since his name came up in another scandal regarding torture and murder in Iranian prisons.

In the post-election scandal surrounding the death of post-election detainees in Kahrizak Detention Centre, some have accused Mortazavi of ordering the transfer of prisoners to the notorious detention centre. However, Mortazavi has not been mentioned on the list of people being tried for the crimes committed at Kahrizak.