RadioZamaneh > Radio Zamaneh in English > Latest News > Human rights lawyer breaks hunger strike in Iranian prison
| | |
| --- | --- |
| RadioZamaneh | Date of Publish: ۵ آبان ۱۳۸۹ |
Human rights lawyer breaks hunger strike in Iranian prison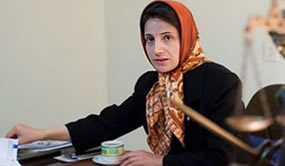 Nasrin Sotoudeh

Iranian human rights lawyer, Nasrin Sotoudeh has finally broken her hunger strike after 27 days, to the relief of her family and supporters.

We-change website reports that Sotoudeh was allowed a visit with her sister during which she informed her that she has ended her hunger strike.

Sotoudeh was reportedly not allowed to speak of anything other than her general health, and her sister indicated that while Nasrin Sotoudeh had lost much weight, her morale was high.

Numerous prominent political figures such as Zahra Rahnavard, Habibollah Peymon, Ezatollah Sahabi and Azam Taleghani had urged Sotoudeh to end her strike in concern for her health.

Rahanvard had also written a letter to the head of judiciary urging him to release Sotoudeh along with all other political prisoners.

Sotoudeh was arrested on September 4 and is currently in solitary confinement. She is charged with "activities against national security and propaganda against the regime."

Iranian Nobel laureate, Shirin Ebadi condemned the arrest of Sotoudeh and said in an interview with Radio Zamaneh: "Iranian judiciary has long lost its independence and become a mere tool in the hands of security and intelligence officials."

Before her arrest, Sotoudeh had told the International Campaign for Human Rights in Iran that she had been contacted by government officials and warned that if she did not withdraw her defence from the State's case against Shirin Ebadi, "she would face trouble."

Nasrin Sotoudeh was also defence attorney to a number of prominent political figures that have been detained in the post election turmoil of the past year and half, over challenging the victory of Mahmoud Ahmadinejad in the 2009 presidential election.