RadioZamaneh > Radio Zamaneh in English > Latest News > Iran continues arrests and media censorship
| | |
| --- | --- |
| RadioZamaneh | Date of Publish: ۳۱ شهریور ۱۳۸۸ |
Iran continues arrests and media censorship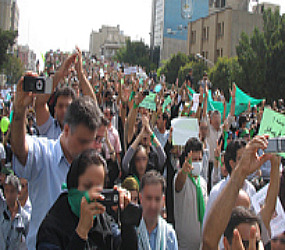 Friday's protesters in Tehran

With the persistence of Iranian protests, the authorities continue their campaign of arrests and media censorship. Last night two young members of the Islamic Iran Participation Front, the reformist group with many senior members already incarcerated, were arrested in Tehran.

In the past ten days, children of many reformist activists have been arrested, children of senior members of the Participation Front as well as children of reformist clerics.

Web journalists have also become a chief target of government arrests. Ali PirHoseinlu and his wife, Fatemeh Sotoudeh were arrested after their house was raided on the night of September 17. They were both charged with "threatening national security."

PirHoseinlu has cooperated with various banned reformist newspapers specifically with the campaign office of MirHosein Mousavi, disputing candidate of the June presidential elections that triggered the wave of protests that has gripped the country for over two months.

Reporters Without Borders has also expressed concern over the plight of journalists and the state of web censorship in Iran.

"The Internet and its users have become the new targets for repression by President Mahmoud Ahmadinejad's supporters in the past two weeks," Reporters Without Borders said. "After suspending newspapers, the authorities are attacking one of the easy ways to access information about arrests and protests in Iran."

Almost every site in Iran has been hacked into or blocked. Sites such as Norooz, the Islamic Iran Participation Front website and Parleman News, the website of the minority reformists of the parliament, as well as Tagheer and Madreseh Feministi are regularly filtered.

During Friday's protests filtering of web activities was at a height. While Iranian officials claim that yesterday's protests were insignificant, eyewitness reports,YouTube postings and pictures of protesters testify to the presence of tens of thousands of people who braved the march despite threats issued by the police and the Revolutionary Guards.

Since yesterday Gmail and Yahoo were added to the state's list of filtered sites which already included YouTube, Facebook and Twitter. More than five million national and international sites are blocked in Iran. The list of the sites that have to be filtered are given to internet providers to block public access to the state's banned topics and information.