RadioZamaneh > Radio Zamaneh in English > Latest News > Iran police forces resist opposition rallies
| | |
| --- | --- |
| RadioZamaneh | Date of Publish: ۱۷ شهریور ۱۳۸۸ |
Iran police forces resist opposition rallies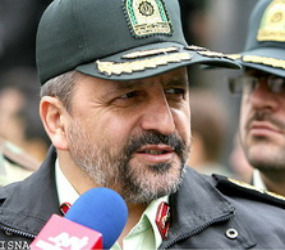 Commander Esmail Ahmadi Moghaddam

Commander of Iran's police forces called on people not to politicize Quds Day events. This day, according to Commander Esmail Ahmadi Moghaddam, "belongs to Palestine and must not be diverted from its true aim."

Every year on the last Friday of the holy month of Ramadan in Iran and many Muslim countries Quds Day is celebrated in solidarity with the people of Palestine. Iranian opposition has announced that protesters will join Quds Day demonstrations to voice their protest against the outcome of the tenth presidential elections which announced Mahmoud Ahmadinejad as winner.

Mehdi Karoubi, one of the defeated candidates and chief opposition leaders, has called on his supporters to join the Quds Day march in protest.

Mr. Ahmadi Moghaddam insists however that nothing "out of the ordinary" will occur on this day. "Considering some issued announcements," he added, "incidents resembling the events that took place in June will not occur in the country on Quds Day."

Last June, following the elections, protesters joined mass demonstrations accusing the government of vote-rigging and asking for the annulment of the election results.

Police and plainclothes forces attacked the peaceful demonstrations. In the course of these attacks, tens of people were killed and thousands were detained. Many detainees were subjected to beatings, torture and rape.
Comments on Kahrizak Detention Centre
Commander Ahmadi Moghaddam also announced that the dossier on Kahrizak Detention Centre has been completed and no evidence of rape or torture were found in the investigation.

Kahrizak was closed in the post-election events by the order of the Supreme Leader after reports of severe treatment and death of detainees at the centre. Recently, firsthand testimony of a rape victim from Kahrizak was also posted on an opposition website.

While many senior government officials, including the Supreme Leader himself, have repeatedly assured people that perpetrators of the vicious violations of detainee rights in the prisons will be brought to justice, Mr. Ahmadi Moghaddam's announcement reveals the state is leaning toward whitewashing the issue.