RadioZamaneh > Radio Zamaneh in English > Latest News > Families of political prisoners rally in Tehran
| | |
| --- | --- |
| RadioZamaneh | Date of Publish: ۶ آبان ۱۳۸۸ |
Families of political prisoners rally in Tehran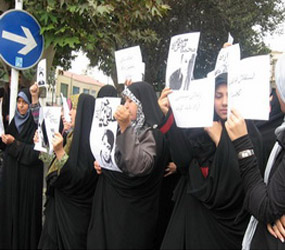 Families of a number of post election detainees in Iran along with a group of social activists rallied in front of the judiciary building in Tehran holding placards demanding the release of their loved ones.

Reports from Tehran say that security forces and plain clothes elements surrounded the group and impeded the public from joining the rally.

Two days ago, the families of political detainees released a statement announcing their intention to stage a rally today Wednesday for the release of their kin. They also warned the authorities that if the rally proves ineffective they would take their protests further through hunger strikes and seeking the international support of human rights and legal groups.

In the meantime ILNA reports that the files of two prominent reformists Mohsen Mirdamadi, member of Islamic Iran Participation Front and Mostafa Tajzadeh, member of Mojahedin of the Islamic Revolution were sent to branch 15 of the Revolutionary Court for processing. The two reformist organizations have repeatedly demanded the release of all their members but many of them still remain in prison.

Fars news agency also cited Alireza Jafarian, defence lawyer for Iman Sohrabpour, that a final sentence of three years imprisonment has been issued for his client which he has 20 days to appeal. Mr. Sohrabpour is reportedly convicted of "activities against national security, spreading propaganda against the regime, producing doubt regarding the outcome of the elections, destroying public trust in the establishment and creating fear in the society."

Mr. Sohrabpour appeared in the third mass trial of the post election protesters.