RadioZamaneh > Radio Zamaneh in English > Latest News > Iran reformist clerics condemn recent arrests
| | |
| --- | --- |
| RadioZamaneh | Date of Publish: ۱ آبان ۱۳۸۸ |
Iran reformist clerics condemn recent arrests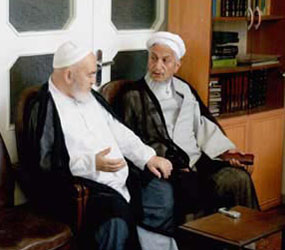 Ayatollah Montazeri and Ayatollah Sanei

The arrest of over 30 people at a prayers ceremony last night in Tehran has caused outrage amongst the families of the detainees as well as reformist clerics.

Last night a group of people attending a prayers ceremony at the residence of detained political activists, Shahabeddin Tabatabai, were arrested in the course of a raid by state security forces. One of the released detainees puts the number of last night's detainees at 68 and claims that they have been taken to Evin prison.

The news of the arrests was reported to prominent clerics such as Montazeri, Sanei, Makarem Shirazi, Mousavi Ardebili and Safi last night.

Ayatollah Montazeri and Ayatollah Sanei condemned the arrests and expressed their regrets that a sacred event like the "Comeil" prayer is no longer respected in the Islamic Republic and described the arrests as an act of weakness on the part of the authorities.

The family of the detainees have announced that if the detainees are not released, they will stage protests, go on hunger strikes and take their protests to international levels.

Following the June presidential elections which has been disputed by two candidates and caused mass protests across Iran, the government has been trying to defuse the unrest through arrests and pressuring of the protesters.