RadioZamaneh > Radio Zamaneh in English > Latest News > Ahmadinejad criticized for "oppression of dissidents"
| | |
| --- | --- |
| RadioZamaneh | Date of Publish: ۹ آذر ۱۳۸۸ |
Ahmadinejad criticized for "oppression of dissidents"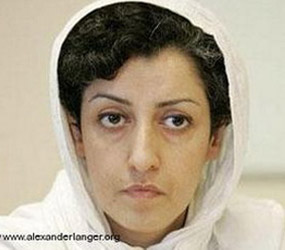 Nargess Mohammadi

In an open letter to Mahmoud Ahmadinejad, Nargess Mohammadi, deputy director of Defenders of Human Rights Council criticized his government's pressures on social activists and oppression of dissidents in Iran.

In her letter, Ms. Mohammadi declares that due to "pressures" from the ministry of intelligence, she was fired from her work over a week ago. She claims the reason for her dismissal is that she has not capitulated to the ministry's pressures to resign from the human rights organizations she is active in.

According to Nargess Mohammadi, the Ministry of Intelligence has confiscated her passport since six months ago and made every effort to stop her from her social and political activities.

She also maintains that she is not alone in being deprived from the right to "work or pursue studies." She writes: "I am just a drop in a stormy sea of oppression." She maintains that numerous Iranian dissidents and their families are the victims of similar hardships.

She also remarks that her husband, Taghi Rahmani has suffered 15 years in the prisons of the Islamic Republic and deprived from holding a job due to the repeated arrests and imprisonments.

Taghi Rahmani, journalist, author and political activists has spent almost a third of his life in prison. He was also detained for several days in the post-election events.