RadioZamaneh > Radio Zamaneh in English > Latest News > Ban on Hamshahri daily lifted amidst controversy
| | |
| --- | --- |
| RadioZamaneh | Date of Publish: ۳ آذر ۱۳۸۸ |
Ban on Hamshahri daily lifted amidst controversy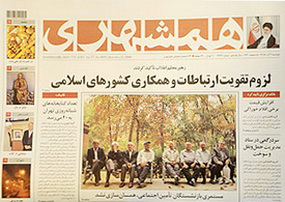 The ban on Hamshahri newspaper, Tehran's highest circulating daily was lifted today amidst disputes in the City Council. The daily, which was banned for publishing a photograph of a Baha'i temple in its ad section, will still have to face charges in court.

The ban of Hamshahri has been backed by Gholamhosein Elham, the Guardian Council's legal expert and Mehdi Chamrun, head of Tehran City Council. Mr. Elham claims the daily had been "warned many times about such violations."

Director of the daily, Ali Asghar Moheki told ISNA that the said photo had been published earlier by Iran and Khorshid dailies which are pro-government newspapers. He added that "considering the current political atmosphere" banning of Hamshahri may be interpreted as an act of political confrontation with publications that are critical of the government.

Several City Counselors have condemned the ban of Hamshahri but Mr. Chamrun has countered their argument saying that the daily has committed too many similar offences.

City Councilors also argue that Hamshahri provides the incomes of 10 thousand citizens and its closure is a great economic blow to the city.

Whilst Hamshahri is not a reformist publication, its ban is a sign of radicalization of the far right in Iran and the establishment's zero tolerance for slightest hint of criticism in the media.