RadioZamaneh > Radio Zamaneh in English > Latest News > Human rights group condemns arrest of Iranian students
| | |
| --- | --- |
| RadioZamaneh | Date of Publish: ۴ آذر ۱۳۸۸ |
Human rights group condemns arrest of Iranian students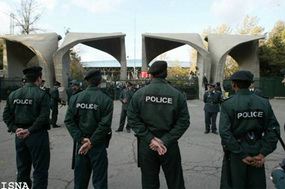 Iran's prosecution and "arbitrary" arrests of university students have been condemned by the International Campaign for Human Rights in Iran.

Reformist media report the arrest of several student activists in Babol, Chahar Mahal Bakhtiari, Shiraz, Ilam, Kermanshah, Qazvin as well as in the universities of Tehran.

The spokesman of the Campaign, Hadi Ghaemi, maintains that the "widespread crackdown on students is to silence the upcoming student movement."

The government is anticipating student demonstrations and protests on December 7th, the Day of University Student which is usually accompanied with numerous activities and ceremonies in Iran. They have adopted a preventive policy of arrests and oppression to discourage students from using the opportunity to further express their election protests.

University campuses all across Iran have kept the fire of protests against the alleged fraudulent victory of Mahmoud Ahmadinejad going by repeatedly staging demonstrations and protests whenever government officials visit the campus.

In response, the government has stepped up pressures on the students with suspensions and arrests.

The International Campaign for Human Rights in Iran calls for the immediate release of all student detainees and urges the authorities to "respect the students' right to freely participate in peaceful gatherings."

Election protesters have announced that they will take to streets on December 7th like the Qods Day and November 4 protests, and the police has warned that it will confront all illegal gatherings.