RadioZamaneh > Radio Zamaneh in English > Latest News > Iranian minister backs gender segregation in universities
| | |
| --- | --- |
| RadioZamaneh | Date of Publish: ۷ آذر ۱۳۸۸ |
Iranian minister backs gender segregation in universities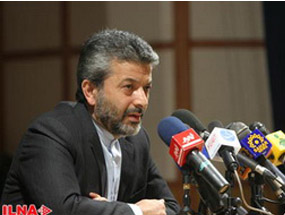 Kamran Daneshjou

Kamran Daneshjou, Iranian Minister of Science announced that "segregation of sexes" in the universities in accordance with "the Islamic worldview" will be put to practice in Iranian universities.

Mr. Daneshjou told ILNA that he supports establishing "exclusive" fields for men and women in universities and believes this would be a "positive and unproblematic" move.

He added that currently in Iran's Alzahra and Emam Sadegh Universities women and men are separately pursuing gender specific fields and this is a debate "which exists worldwide."

Numerous university courses in Iranian public universities are currently held in co-ed atmosphere. Alzahra and Masomeh are the only universities that are exclusively for women, and midwifery is the only field that is exclusively open to women.

Following the so-called "cautionary" statistics about the increasing number of women in universities, post-secondary authorities have decided to establish a policy to ensure the presence of each gender in the university does not fall bellow 30 percent.

In recent years, women have comprised over 60 percent of university students.

Certain fields in Iran have an obligatory 40 percent male intake and therefore, despite receiving higher acceptance grades in national entrance exams, women are often not accepted into their chosen fields, or not accepted at all.