RadioZamaneh > Radio Zamaneh in English > Latest News > Karroubi: I did not expect this level of violence
| | |
| --- | --- |
| RadioZamaneh | Date of Publish: ۶ آذر ۱۳۸۸ |
Karroubi: I did not expect this level of violence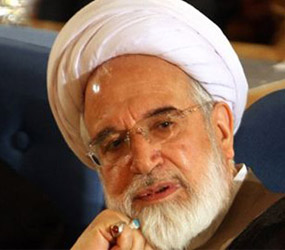 Mehdi Karroubi

In an exclusive interview with a Dutch Channel 2 television program, Iranian opposition leader, Mehdi Karroubi discussed his thoughts about the recent violence the government has been exercising against election protesters.

Mehdi Karroubi, who has been personally attacked several times in the post-election events, maintained that he never believed the election dispute would become confrontational and he especially did not expect the extent of violence would reach the level it has.

Mr. Karroubi added: "It is a new thing for me that they violently beat women and easily attack seniors. We were very active during Shah's (Iran's last monarch, Mohammad Reza Pahlavi) time and in those days they did not beat people like this. In demonstrations, they in effect tried to merely shoo people away and disperse them."

Mehdi Karroubi was injured during a direct attack on him in October when he was visiting a press exhibition in Tehran. He was later attacked in the November 4th street protests with tear gas bombs.

More recently, at 1 a.m. yesterday morning, over 60 Basij bikers swarmed outside his residence in Qom where he was staying after meeting with a group of Shiite clerics. They chanted slogans and shouted offensive remarks. The militiamen were dispersed some hours later after the arrival of the police.

Iranian government has been targeting in on Mehdi Karroubi by closing down his Etemed-e Melli party office and banning their newspaper.

The former speaker of the parliament is being forced to become a recluse and in his interview with Dutch TV, he also admits: "Our hands are tied!"

At the end of his interview, Mehdi Karroubi concluded: "My main concern is for the society because I felt they came to change things and it did not happen… But it is only natural that people will attain their desired objective, their just and legal demands."

Millions of protesters took to the streets of Tehran and other Iranian major cities to protest the alleged fraud in June presidential elections which secured the re-election of Mahmoud Ahmadinejad. Mehdi Karroubi and MirHosein Mousavi, are the two candidates that have disputed the election procedures and denied the legitimacy of the result.

The government has responded with a violent crackdown on protesters and widespread arrests. Despite all government efforts, protests have persisted and the political climate of the country remains turbulent.