RadioZamaneh > Radio Zamaneh in English > Latest News > Situation of journalists deteriorating in Iran
| | |
| --- | --- |
| RadioZamaneh | Date of Publish: ۱۷ دی ۱۳۸۸ |
Situation of journalists deteriorating in Iran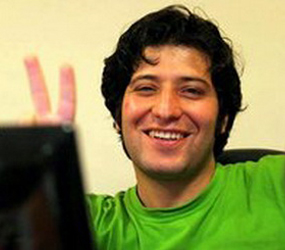 Sasan Aghayi

Reporters Without Borders once more announced grave concern over the "critical" situation of journalists in Iran as another Iranian journalist, Sasan Aghayi was arrested and others handed long prison terms.

Reportedly, Sasan Aghayi, who worked for Farhikhtegan daily newspaper as well as being involved with several other reformist papers, was arrested by the security forces while his home was raided and his personal belongings, confiscated. His whereabouts remain unknown.

Reza Nourbakhsh and Masood Bastani are two other Farhikhtegan journalists who were arrested earlier. The two journalists have each been sentenced to six years in prison.

Another imprisoned journalist, Reza Rafii Foroushani, freelance journalist and contributor to domestic and international media was sentenced to five years in prison in addition to a seven-year suspended sentence.

Reporters Without Borders condemns the arrest of Sasan Aghayi and the sentences handed to journalists saying: "Despite such clear condemnation from the United Nations, the Iranian authorities continue to torture journalists and try them without any transparency, behind closed doors." They therefore urge the UN to adopt "a resolution denouncing the lack of transparency in the ongoing political trials and the illegal and arbitrary sentences being passed on opposition activists and journalists."

The press organization maintains that since June presidential elections, Evin Prison officials refuse to inform families of prisoners about the situation of the detainees.

Mehdi Hoseinzadeh and Bahman Ahmadi Amoyi are two other journalists about whom Reporters Without Borders expresses deep concern.

Mr. Hoseinzadeh has been in prison since July 31 and according to his wife, is being tortured by his keepers.

Zhila Bani-Yaghoub wife of Bahman Ahmadi Amoyi has also informed Reporters Without Borders that "after spending more than 65 days in solitary confinement in Evin prison, he was transferred to a wing with other inmates. But then, after just a week in cell 350, he was put back in solitary confinement, in section 209 of the prison."

Ms. Bani Yaghoub, also a journalist who was imprisoned and later released in the post-election events, has expressed grave dismay over the medical condition and health of her husband.