RadioZamaneh > Radio Zamaneh in English > Latest News > Tehran prosecutor urged to remove journalist from solitary confinement
| | |
| --- | --- |
| RadioZamaneh | Date of Publish: ۸ آذر ۱۳۸۸ |
Tehran prosecutor urged to remove journalist from solitary confinement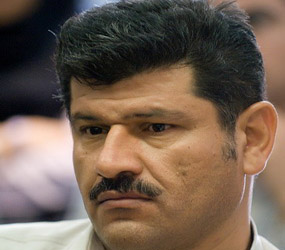 Bahamn Ahmadi Amouyi

Zhila Bani-Yaghoub, Iranian journalist and social activist, in a letter to the judiciary urged Tehran Prosecutor General not to allow her husband, Bahman Ahmadi Amouyi to be kept in solitary confinement until the date of his court hearing.

Bahman Ahmadi Amouyi is a journalist that was arrested in the post-election events in Iran and after 65 days in solitary confinement was finally transferred to the general section of Evin prison. However, soon after he was taken back to solitary confinement after complaining about unacceptable conditions of section 350 of the prison.

In her letter to Abbass Jafari Dowlatabadi, Tehran's Prosecutor General, Zhila Bani-Yaghoub expresses deep concern over the health of her husband and urges the authorities to transfer him to the general section of the prison so he can prepare for his defence.

Ms. Bani-Yaghoub maintains that her husband is not allowed any phone calls or visits in solitary confinement. He is not even permitted to have pen and paper in order to prepare for his defence. Bani-Yaghoub asks the Prosecutor-General if they are going to give her husband the basic right to prepare for his defence.

According to Ms. Bani-Yaghoub, Bahman Ahmadi Amouyi's trial will be held on December 12. She maintains that they have not been informed about his charges and his attorney will go to the court's office this week in an attempt to read his file.

Zhila Bani-Yaghoub and Bahman Ahmadi Amouyi were arrested together a week after the disputed presidential elections in Iran. She was released after two months on a bail of one billion rials ($100,000).

In the post-election protests and events, journalists have become the repeated target of arrests by Iranian authorities.