RadioZamaneh > Radio Zamaneh in English > Latest News > Protests continue in Tehran universities
| | |
| --- | --- |
| RadioZamaneh | Date of Publish: ۸ دی ۱۳۸۸ |
Protests continue in Tehran universities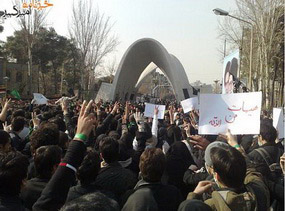 today's rally at Elm-o-Sanat University

Anti-government student rallies in Tehran universities were confronted by pro-government forces in plain clothes causing tens of injuries and scores of arrests today.

Ten protesters from rallies at Elm-o Sanat University were transferred to hospital according to reformist website Jaras. Some of the students were arrested and taken to an unspecified location.

Science and Research Department of Open University was also the site of altercations between student protesters and "Basij" forces. University security personnel collaborated with Basijis to lock protesters for hours in the University buildings.

In the past two days over ten student activists from universities all across the nation have been arrested according to Amir Kabir website.

Head of student group, Tahkim-e Vahdat, Mehdi Arabshahi was one of the recent detainees.

A Tehran University student, Niloufar Hashemiazar was also arrested along with her mother, Shahrzad Nasiri in Tehran on Ashura Day, Sunday.