RadioZamaneh > Radio Zamaneh in English > Latest News > Ahmadinejad lashes out at judiciary's move against his government
| | |
| --- | --- |
| RadioZamaneh | Date of Publish: ۷ بهمن ۱۳۸۸ |
Ahmadinejad lashes out at judiciary's move against his government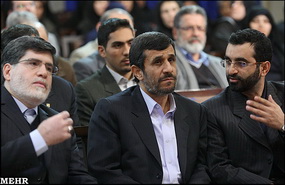 Javanfekr, Ahmadinejad and Behdad

Mahmoud Ahmadinejad spoke out against what he called the "spirit of dictatorship" in the country's judiciary after his chosen head of IRNA State News Agency was prosecuted and sentenced to imprisonment this week.

Yesterday in the introduction ceremony for Alli Akbar Javanfekr, the new head of IRNA, Ahmadinejad said: "According to the law if Imam Khomenei, the Supreme Leader or the president are insulted, the law must confront them. Any other confrontation is not acceptable."

He added: "Unfortunately judiciary officials have let go of the law and are pursuing people for criticizing this Member of Parliament, that member of the judiciary and the other special group. And then they claim you have to be put to trial and serve time."

Ahmadinejad refers to the recent prosecution and sentencing of Mohammad Jafar Behdad, the former head of IRNA and head of internal media of the Ministry of Culture.

Tehran Prosecutor's Office banned the weekly "Hemmat" and prosecuted Mohammad Jafar Behdad for disregarding the warnings of the judiciary regarding provocative publications.

The last publication of "Hemmat" ran a picture of moderate cleric Akbar Hashemi Rafsanjani and some of the Islamic Republic officials referring to them as "Hashemi and his band of brothers" which caused the banning of the weekly.

After this incidence, two other lawsuits filed by the Speaker of the Parliament, Ali Larijani and Chairman of the Expediency Council, Ayatollah Rafsanjani resulted in the prosecution and handing of prison term to Mr. Behdad.

Mahmoud Ahmadinejad is a staunch detractor of Ayatollah Rafsanjani which has resulted in a bitter internal dispute within the establishment, exacerbated by the election protests.

Mahmoud Ahmadinejad spoke in support of his former IRNA chief claiming the judiciary has been acting irregularly by condemning him without a jury. He maintained that it cannot be legal that for "mere criticism of an individual," one should be confronted so.

Pro-government media, which have been hard at work in the past seven months bashing opposition forces and election protesters, reacted with indignation and alarm at the judiciary's decision to prosecute one of their own.

Minister of Culture expressed dismay that rather than commending the "whistle-blowing" media, the judiciary is creating obstacles for it.