RadioZamaneh > Radio Zamaneh in English > Latest News > Iran claims detainees belong to dissident group PMOI
| | |
| --- | --- |
| RadioZamaneh | Date of Publish: ۱۸ دی ۱۳۸۸ |
Iran claims detainees belong to dissident group PMOI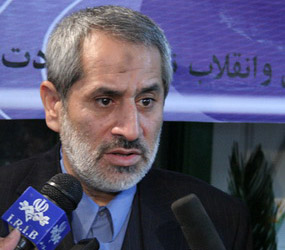 Tehran Prosecutor, Abbas Jafari Dowlatabadi

Tehran Prosecutor, Abbas Jafari Dowlatabadi announced today that the five detainees who have been accused of "moharebeh" (armed attack) are "members of People's Mojahedin Organization."

People's Mojahedin Organization of Iran has been one of the archenemies of the Islamic Republic for the past thirty years. While the political organization was active and instrumental in the 1979 Revolution that overthrew the monarchy, they were soon rejected by the Islamic Republic establishment and in the 1980s scores of its members were executed by the government.

The judiciary claims that the case against the five detainees is based on "officer reports, strong documented evidence and explicit confession of the accused."

On Ashura Day election protesters staged further protests decrying the alleged fraud that brought Mahmoud Ahmadinejad back for another term of presidency. Over 500 people were arrested on this day and at least eight people were killed during the government face-off with protesters.

Tehran Prosecutor added that those charged with "armed attack" may be sentenced to death and the recent detainees will not be released on bail before their trial unless there are no charges against them.

Abbas Jafari Dowlatabadi also referred to the arrest of 12 Baha'is in recent days. He maintained that they are accused of "coordinating Ashura Day riots" and "playing an effective role in transmitting images of the protests abroad."

He also claimed "firearms and bullets" were found in the homes of these detainees. He insisted that these individuals "were not arrested because they are Baha'is."

The human rights group, International Campaign for Human Rights in Iran issued a statement today expressing concern over the possibility of the execution of the detained Baha'is.