RadioZamaneh > Radio Zamaneh in English > Latest News > Iran claims US and Israel involved in bombing
| | |
| --- | --- |
| RadioZamaneh | Date of Publish: ۲۲ دی ۱۳۸۸ |
Iran claims US and Israel involved in bombing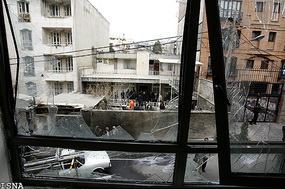 Iran Foreign Ministry announced that Israel and the US were involved in the "terrorist attack" that killed Massoud AliMohammadi, Iranian physics professor today.

Ali Mohammadi, a physics lecturer at Tehran University was killed after a bomb was detonated close to his home.

Ramin Mehmanparast, speaker for the Foreign Ministry told Mehr news agency that the "cowardly assassination" of this professor was carried out by foreign elements and Iran strongly condemns the act.

He added: "Such acts and the apparent elimination of our atomic scientists" will not stop Iran's nuclear activities.

Central news agency reports that Abbas Jafari Dowlatabadi , Prosecutor of Tehran announced that "probably Mossad and CIA elements and services were involved in the assassination" of this professor.

He added that the body has been transferred to the coroners office and the investigations are still in process.

Central news agency claimed "the US and Zionist elements" were responsible for this bombing.

While Fars announced that Association of Monarchists of Iran has claimed responsibility for the bomb through an announcement, the Association has denied any involvement in the incident.

Some of the members of this group were hanged last year for involvement in a bombing in Shiraz.