RadioZamaneh > Radio Zamaneh in English > Latest News > Iran Leader urges opposition to clarify its stance
| | |
| --- | --- |
| RadioZamaneh | Date of Publish: ۲۹ دی ۱۳۸۸ |
Iran Leader urges opposition to clarify its stance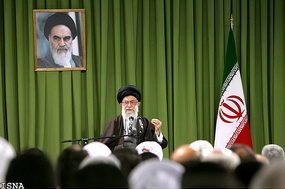 Iran's Supreme Leader, Ayatollah Khamenei, criticized the silence of some of the "elite" and called on them to clarify their stance vis a vis those who have "questioned" the elections.

Speaking in a committee in charge of organizing the events celebrating the anniversary of the 1979 Revolution in Iran, Ayatollah Khamenei asked the "elite" to end their "two-sided stances" and clarify the lines of division between themselves and the enemies.

He had also said earlier that the silence of the "elite, aids the sedition."

In the past seven months, Iran has witnessed widespread protests to the re-election of Mahmoud Ahmadinejad in the June presidential elections which protesters claim was rigged.

In the course of the protests, security forces have arrested thousands of people and tens of people have been killed.

Protesters have taken to the streets on every special date in the Islamic Republic calendar to bring home the persistence of their dissent.

The anti- government and anti-leadership slogans chanted during these events were dismissed by Ayatollah Khamenei claiming they a "merely a small deceived group."

He also added that "the enemy is trying to shaken our great national treasure, February 11 (anniversary of Iranian Revolution). Therefore we need to be in the arena in full force and make wise moves."

Opposition forces have announced that they will continue their protests by joining the February 11 events.

Revealing the deepening divisions that have overtaken the Islamic Republic establishment since the start of the June presidential election, Ayatollah Khamenei claimed: "It must be clarified whether those who are within the Islamic Republic regime are willing to separate themselves from the enemy."

The Islamic Republic has tried to portray the protests as a foreign-backed conspiracy to topple the regime.

The leaders of the opposition which are all by many definitions part of the Islamic Republic "elite" have refused to back down from their allegation of fraud in the elections and claim that while they do not recognize the legitimacy of the tenth government, they are by no means against the regime.