RadioZamaneh > Radio Zamaneh in English > Latest News > Mourning Mothers arrested in Tehran
| | |
| --- | --- |
| RadioZamaneh | Date of Publish: ۲۰ دی ۱۳۸۸ |
Mourning Mothers arrested in Tehran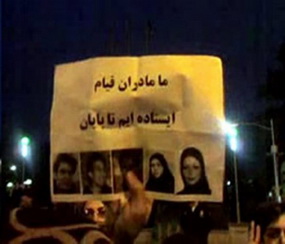 Facebook-Mourning Mothers gathering

Iranian authorities arrested 30 Mourning Mothers and their supporters last night during a peaceful gathering at Tehran's Laleh Park.

International Campaign for Human Rights in Iran quoting eyewitnesses, and an issued statement from the Mourning Mothers confirm the arrests.

Mourning Mothers was established after the death of Neda Agha-Solatan and Sohrab Arobi in June of 2009 by mothers whose children had been killed, arrested or had disappeared in the post-election protests.

The group demands Islamic Republic officials be held accountable for the fate of their children.

They gather peacefully every Saturday in Laleh Park in their black gowns of mourning demanding the government's attention.

The gathering of Mourning Mothers has been attacked by security forces on several occasions.