RadioZamaneh > Radio Zamaneh in English > Latest News > Police announce arrest of 40 more Iranian protesters
| | |
| --- | --- |
| RadioZamaneh | Date of Publish: ۲۹ دی ۱۳۸۸ |
Police announce arrest of 40 more Iranian protesters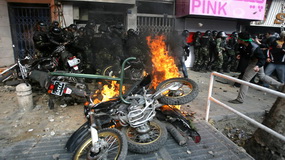 A police official announced today that with "the cooperation of honest and always alert people of Islamic Iran," they have managed to arrest 40 more people involved in Ashura Day events.

He also called on the public to continue assisting the police in identifying "rioters."

The police had published a special eight-page newsletter to identify protesters who participated in the Ashura Day events.

The newsletter, which contained 65 pictures of protesters, was distributed widely in the mosques and various public organizations.

This new strategy of the police was "commended" by Iran's Council of Press Supervision.

Some pro-government media have published certain pictures of protesters referring to them as "rioters" and thus called for their identification and arrest.

Two days ago, Tehran Security Commander, Brigadier-General Azizollah Rajabzadeh announced that the police will identify and arrest all the participants of Ashura Day events.

On Monday, five Ashura Day detainees were put to trial charged with "moharbeh," which carries the death penalty.

Iran's election protesters had planned peaceful demonstrations for Ashura Day, a day of mourning in Shiite calendar, but police confrontations with protesters led to violence and arrest and even death of protesters.