RadioZamaneh > Radio Zamaneh in English > Latest News > Rafsanjani accused of conspiring against Supreme Leader
| | |
| --- | --- |
| RadioZamaneh | Date of Publish: ۷ بهمن ۱۳۸۸ |
Rafsanjani accused of conspiring against Supreme Leader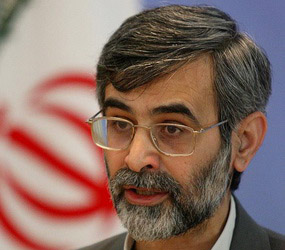 Internal jousting between factions of the Islamic Republic continued as hardline member of the Guardian Council, Gholamhosein Elham accused the moderate cleric Hashemi Rafsanjani of trying to "cut off" Ayatollah Khamenei form leadership. He also claimed that former President Mohammad Khatami has always aimed at "crossing over the Islamic system."

Gholamhosein Elham, who was speaking for a group of Qom citizens, gave examples of how he felt Ayatollah Rafsanjani had repeatedly tried to exclude Ayatollah Khamenei from leadership and "take over the system and the Revolution through the executive branch of the government."

At the end of his terms at presidency, Hashemi Rafsanjani had asked the Supreme Leader to alter the constitution so that he could run for another term but his request was denied.

Elham also accused Hashemi Rafsanjani of being involved in a conspiracy against the regime in the recent protests.

Elham added that he regards Rafsanjani as the architect of the opposition movement and together with Mohammad Khatami, they have tried to take the system away from its Islamic origin.

The former spokesman for Ahmadinejad government also criticized the judiciary for hesitating in firmly confronting Ashura Day detainees and failing to realize the "widespread dimensions of the conspiracy against the system."

He claimed: "MirHosein Mousavi is fiercely supported by the US and Britain because they see in him the potential to change the system."

The disputing candidate of the presidential elections, MirHosein Mousavi has many times claimed that his dispute against the government is fully contained within the Islamic Republic constitution and in fact his intention is to save the system.