RadioZamaneh > Radio Zamaneh in English > Latest News > Iranian authorities dismiss protester turn up on February 11
| | |
| --- | --- |
| RadioZamaneh | Date of Publish: ۱۶ بهمن ۱۳۸۸ |
Iranian authorities dismiss protester turn up on February 11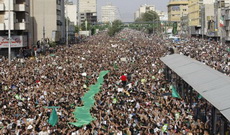 Iranian authorities are dismissing the protester turn up on February 11 and maintaining that they have made no preparations to confront them because there will be no need for it.

Tehran Governor, Morteza Tamddon told ISNA they have taken "no particular security measures" because "rioters" will be "ineffective" on this day.

Every year on February 11, anniversary of 1979 Revolution's victory, supporters of the Revolution all over Iran stage a march. This year, election protesters have announced that they will participate in the demonstration to express their protests to the outcome of the elections which they claim was fraudulent and to condemn the violence exercised by the government to put down their protests.

Morteza Tamaddon claimed that "Foreign enemies and seditious individuals within the country will not get a chance to do anything amidst the enormous wave of our people marching in millions."

By assuming that government supporters will turn up in the millions, Tehran Governor predicted no "significant disturbances" will occur.

Opposition forces have used major national and religious days in the Iranian calendar to stage demonstrations and continue their protests. Each time the gathering and demonstrations of the opposition have been confronted with extreme violence from State security forces and pro-government forces in plain clothes.

The internet and the media have broadcast numerous films of Iranian security forces and government supporters beating up protesters, shooting at them and running them over with a car. At least 40 people have been killed so far in the course these confrontations.

Major-General Hassan Firouzabadi, head of Iranian Armed Forces Headquarters told the press that the "powerful presence of people" will dash all "the enemies" hopes of acting against the Islamic Republic.

Fars news agency reports that the senior army commander called on all forces of the Revolutionary Guards Corps, the army, the Basij Militia, the Security Forces and the Ministry of Defence to join the march on the occasion of the Revolution's anniversary with their families.

The disputing candidates of the election, MirHosein Mousavi and Mehdi Karroubi have also called on protesters to join the February 11 demonstrations.

Coordination Council of the Reformist Front has also called on the supporters of the Green Movement to join the march with green symbols.