RadioZamaneh > Radio Zamaneh in English > Latest News > Iranian cleric urges authorities to hear protesters' demands
| | |
| --- | --- |
| RadioZamaneh | Date of Publish: ۲۴ بهمن ۱۳۸۸ |
Iranian cleric urges authorities to hear protesters' demands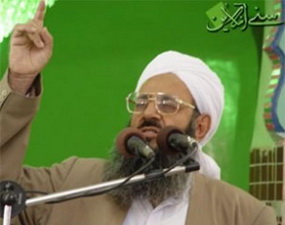 Molavi Abdolhamid

Zahedan's Friday Mass Prayers Leader, Molavi Abdolhamid described the Islamic Republic as a system that gives an equal level of freedom to both pro- and anti- government elements and allows the voices of the opposition to be heard.

Neday-e Sabz Azadi reports that the Sunni cleric told worshipers on Friday that the meaning of "Islam" and "republic" is that people's right to rule and to freedom is respected.

He added that "freedom and justice" were the goals of the founder of the Islamic Republic and those goals should also be realized for all religions and groups.

Molavi Abdolhamid went on to say: "The people of Iran brought the Revolution to victory to achieve its goals and now they demand the reviewing and realization of those goals."

He echoed the concern of Iran's opposition leaders saying that the people want the constitution to be executed in its totality.

He also reminded that Islam allows everyone, whether they agree or disagree with Islam, to freely express their opinions and also responds to them.

In earlier sermons, Molavi Abdolhamid had also criticized the government's crackdown on protesters and condemned the increase in executions, coerced confessions and torture. He especially spoke out against torture saying; "This phenomenon goes against Islam religion and the constitution."

He called on the government to change its policy toward protesters and try to address their concerns instead.

Iranian authorities have not let out on their violent confrontation of protesters and over the past seven months, according to official statistics, at least 40 people have been killed in the course of these confrontations.