RadioZamaneh > Radio Zamaneh in English > Latest News > Iranian judiciary wants protesters to "repent"
| | |
| --- | --- |
| RadioZamaneh | Date of Publish: ۷ اسفند ۱۳۸۸ |
Iranian judiciary wants protesters to "repent"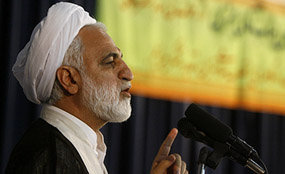 Iran Prosecutor-General Gholamhosein Mohseni Ejei

Iran Prosecutor-General, Gholamhosein Mohseni Ejei announced on Thursday that recent detainees will "get pardoned or reduced sentences" if they "repent."

Speaking in Esfahan, he said: "If those who were arrested in the recent disturbances repent and compensate for the damages they have cost and reform their ways, they will certainly be helped in the appeals court."

The Prosecutor-General added that the Islamic Republic doesn't want anyone in prison unless they are "harmful for national interests and the nation's freedom and would cause corruption if they are at large."

In the past eight months, over five thousand protesters to the alleged fraud in the June presidential elections have been arrested. A number of these detainees have been sentenced to execution, exile and long prison terms. Numerous political and social activists as well as journalists, lawyers and university students are amongst the detainees.

Iran Prosecutor-General claimed: "The number of pardons in the Islamic Republic has increased so much that people have even complained about it."

The reformist website, Jaras reports that there is a possibility that preparations are being made for a "repent and regret" ceremony in the presence of the Supreme Leader, Ayatollah Khamenei. Jaras maintains that some detainees are "under pressure to attend this ceremony and repent from the so-called Green sedition." Reportedly some detainees will be released on the condition that they participate in this ceremony.

The political movement that has taken shape in the post-election protests has been referred to as the Green Movement by protesters and opposition leaders; however, the government refers to is as sedition.

Gholamhosein Mohseni Ejei also warned against the continuation of protests in the last days of the Iranian year which ends on March 21, and claimed: "Any further activities will receive the harshest confrontation."

A number of protesters have announced that they will stage demonstrations on Chaharshanbeh Souri, an ancient Iranian celebration which is observed on the last Tuesday night of the year. Customarily, people come to the streets on this night and set up bonfires in their neighbourhood.

The Prosecutor-General also talked about the possibility of arresting a number of "offenders" during Nowruz holidays.

In the past eight months, protesters have used national days on the Iranian calendar to stage their protests. This is the first time that the date is connected with Iran's ancient history rather than recent politics.