RadioZamaneh > Radio Zamaneh in English > Latest News > Larijani accuses the West of deception
| | |
| --- | --- |
| RadioZamaneh | Date of Publish: ۱۷ بهمن ۱۳۸۸ |
Larijani accuses the West of deception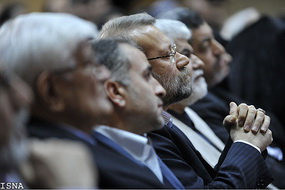 Ali Larijani at the 11th annual Avicenna Festival

Ali Larijani, the Speaker of Iran's parliament accused the West of "political fraud" in its nuclear negotiations with Iran.

Fars news agency reports that Ali Larijani, speaking in the Avicenna Festival of research at Tehran University, maintained that the West's dealings with Iran's nuclear program are "double-sided and prejudicial" and told Western powers to beware that "Iranians are not so gullible."

Larijani, also the former head of Iran's National Security Council, claimed the West's pretense at being concerned about Iran's nuclear program is just a pretext for "political fraud."

The statements of the Speaker of the Parliament come in the wake of recent announcements by Mahmoud Ahmadinejad and Manouchehr Mottaki, his Foreign Minister, claiming Iran is ready to accept the West's suggested nuclear exchange.

Ali Larijani and a group of MPs fiercely oppose the said exchange. Ahmadinejad has accused those who oppose this trade of "unconsciously collaborating with Zionism."

Ali Larijani has repeatedly condemned this deal and accused the West of "cheating" Iran.

The International Atomic Energy Agency has proposed that Iran can provide the necessary fuel for its nuclear research reactors by exchanging 75 percent of its 3.5 percent enriched uranium with up to 20 percent enriched uranium from Russia.

Those who oppose the deal in Iran claim the trade will mean that years of research regarding uranium enrichment in Iran will be destroyed.

They also maintain that the Supreme Leader, Ayatollah Khamneni opposes the deal, but Ahmadinejad has gone against the Leader's will with his last week's statements.