RadioZamaneh > Radio Zamaneh in English > Latest News > Iranian politcal detainees to go on hunger strike
| | |
| --- | --- |
| RadioZamaneh | Date of Publish: ۲۸ اسفند ۱۳۸۸ |
Iranian politcal detainees to go on hunger strike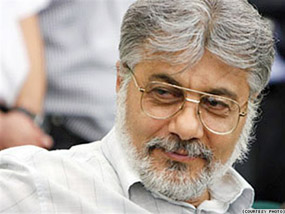 Issa SaharKhiz

Iranian political dissidents, incarcerated in section 350 of Evin Prison have announced that they will go on a hunger strike starting the first day of the New Year. Iranian New Year starts on March 21.

Detained journalist, Issa Saharkhiz informed his family about the strike through a phone conversation.

Reformist website, Jaras reported that Issa Saharkhiz has already started his hunger strike since yesterday, March 18 and the rest of the prisoners of section 350 will join him on March 21.

Issa Saharkhiz is one of the founders of Association of Press Freedom in Iran. He has been detained for over eight months and so far no charges have been laid against him. Last week he was transferred to section 350 from solitary confinement.

"The critical condition of section 350, lack of minimum living standards, failure to charge or process the files of most of the inmates in this section and refusal to grant prisoners sick leave or their entitled leaves" are amongst the reasons listed for the hunger strike.

Issa Saharkhiz declares that he is being kept in a "highly inadequate physical condition" because section 350 has "catastrophic" hygienic, medical and heating conditions.

The prisoners of this section had already gone on a hunger strike recently to protest the transfer of five of their inmates to solitary confinement.

Human Rights Reporters Committee announced that the hunger strike had been brought to an end with the removal of the five detainees from solitary confinement.

Reportedly Maryam Zia, children's rights activist has also gone on a hunger strike since yesterday to protest her continued arrest.

Her file has been transferred to another court which has resulted in further prolonging of her case.

Maryam Zia, director of Struggle for a World Deserving of Children Society has been in custody since last December.