RadioZamaneh > Radio Zamaneh in English > Latest News > Iranian reformist politician, Tajzadeh released
| | |
| --- | --- |
| RadioZamaneh | Date of Publish: ۲۰ اسفند ۱۳۸۸ |
Iranian reformist politician, Tajzadeh released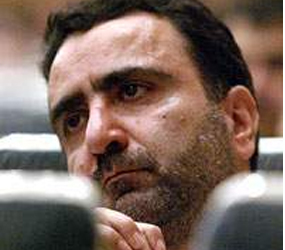 Mostafa Tajzadeh

Mostafa Tajzadeh, member of the reformist organization Islamic Iran Participation Front was released last night from Tehran's Evin prison.

ILNA reports that Tajzadeh was temporarily released until the end of Nowruz holidays. Houshang Babayi told ILNA that his client was released without bail.

Mostafa Tajzadeh was arrested one day after the June presidential elections. "Propaganda against the system, activities against national security, insulting government authorities and possession of classified and confidential documents" are amongst the charges that have been brought against him.

His family reports that he spent several months of his nine month incarceration in solitary confinement and was under pressure to submit to "forced confessions."

Tajzadeh has appeared in two court sessions regarding his case and has refused to defend himself in protest to the legal proceedings against him. The court has not yet issued a sentence for him.

Mostafa Tajzadeh maintains that the judiciary must first address his lawsuit against Ahmad Janati, head of the Guardian Council.

Mostafa Tajzadeh filed a lawsuit against Ahmad Janati for voiding 700 thousand votes of Tehran residents in the sixth parliamentary elections. Tajzadeh served as deputy minister of Iran's Ministry of Interior in the government of Mohammad Khatami.

In the past nine months, in continuation of protests against the re-election of Mahmoud Ahmadinejad which protesters maintain was fraudulent, numerous political and civil activists have been arrested and some have received heavy prison and exile sentences.

At the threshold of Iranian New Year and the arrival of Nowruz, the judiciary has issued temporary releases for some of these detainees.