RadioZamaneh > Radio Zamaneh in English > Latest News > Karroubi slams Islamic Republic's exclusionary policies
| | |
| --- | --- |
| RadioZamaneh | Date of Publish: ۲۹ اسفند ۱۳۸۸ |
Karroubi slams Islamic Republic's exclusionary policies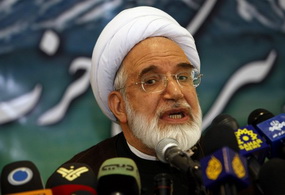 Mehdi Karroubi

Mehdi Karroubi, Iranian opposition leader issued a message on the occasion of Nowruz condemning the exclusionary policies of the Islamic Republic claiming the regime has been reduced to a few clerics and the military supporters of the government.

Naming a few hardline clerics such as Ayatollah Janati, Ayatollah Mesbah Yazdi and Ahmad Khatami, he added that by limiting the regime to such a handful of clerics and the armed forces behind the government, the "galleon of the regime" has been transformed into a "meager barge."

Karroubi's comments come after Iran's Supreme Leader, Ayatollah Khamenei announced that he does not want anyone to disembark for the "ship of the regime" unless they insist on getting off.

Karroubi maintained that he considers himself "a devotee" of Islamic and the Islamic Republic, but has no faith in a regime that solely belongs to the "tastes of a small group."

In his message, he went on to condemn the government crackdown on protesters and the widespread arrest of "thousands" of dissidents. He also condemned the persistent pressures on the media, the continuous banning of publications and the widespread arrest of journalists.