RadioZamaneh > Radio Zamaneh in English > Latest News > Moderate cleric urges Iranian students to continue expressing their demands
| | |
| --- | --- |
| RadioZamaneh | Date of Publish: ۱۲ مرداد ۱۳۸۹ |
Moderate cleric urges Iranian students to continue expressing their demands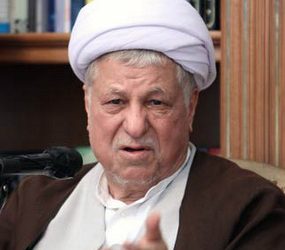 ILNA- Ayatollah Hashemi Rafsanjani

Ayatollah Hashemi Rafsanjani announced that he does not believe students should remain silent in political matters but rather try to communicate their demands in a "logical" manner in order to achieve reform.

At the threshold of Iranian New Year, Ayatollah Rafsanjani is publishing messages of advice to the various strata of the society. The first proposal is addressed to students to whom the moderate cleric says they should evaluate the current situation "well" and not create excuses for people who are trying to make a security-atmosphere take hold of the society.

The Chairman of the Expediency Council writes that: "The atmosphere needs to remain logical and wise" and in such an atmosphere those who "are expressing good ideas will ultimately triumph."

He also emphasizes that students should not speak in a manner that could allow the enemies to "take advantage" of them.

This is the first time that the Chairman of the Expediency Council is publishing a message of advice on the eve of Nowruz, Iranian New Year.

Customarily, the Supreme Leader and the president give New Year messages to the people which are broadcast through the national television.

Other government officials usually just send brief messages in recognition of the New Year.

Ayatollah Rafsanjani's message comes at a time that numerous university students have been arrested with some of them receiving heavy prison terms for their role in the recent protests. Many have also been banned from continuing their education.

Yesterday Tehran's Friday Mass Prayers leader told worshippers that it was incumbent on everyone to "hide the faults of the Islamic System" and not to talk about it publicly so that enemies would not be made aware of them.

Ayatollah Rafsanjani's unprecedented message seems another diplomatic attempt at addressing the protests against the presidential elections of last June which protesters claim was rigged in favour of Mahmoud Ahmadinejad.

Ahmadinejad supporters have repeatedly accused Ayatollah Rafsanjani of lending his support to the opposition and the protests. In the early days of the protests Ayatollah Rafsanjani urged a recount of the votes which was denied by the Supreme Leader Ayatollah Khamenei.

While Ayatollah Rafsanjani's messages have become more cryptic with the passage of time, he continues to issue messages that urge diplomacy in the protests in order to avoid violence.

Protesters have announced that they are planning to take their protests to the streets once more on Chaharshanbeh Souri, the Fire Festival on the last Wednesday Eve of the year which falls on March 16.

The police have also warned that whoever threatens the security on this day will be arrested and held throughout the Nowruz holidays which goes on for over two weeks.