RadioZamaneh > Radio Zamaneh in English > Latest News > Senior member of Iranian reformist party arrested
| | |
| --- | --- |
| RadioZamaneh | Date of Publish: ۲۸ اسفند ۱۳۸۸ |
Senior member of Iranian reformist party arrested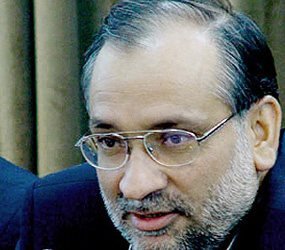 ILNA-Hossein Marashi

Iran continues pressuring the opposition with persistent arrest of dissidents. Yesterday, Hossein Marashi, spokesman for the Executives of Construction Party, was arrested and transferred to Evin Prison.

Fars News Agency announced that Hossein Marashi was arrested in order to serve a one-year prison term which he had been sentenced to earlier. While his charges remain unclear, Fars maintains that the sentence was approved by the appeals court.

Hossein Marashi is Ayatollah Hashemi Rafsanjani's brother-in-law and earlier his wife, and daughter were also briefly arrested with Faezeh Hashemi, the daughter of Ayatollah Rafsanjani in the June 15 election protests at the street demonstrations against Mahmoud Ahmadinejad.

Hossein Marashi has also been banned from "participating in any political, social or cultural party or activity" for six years.

The Executives of Construction Party is one of Iran's main reformist parties that in the tenth presidential elections endorsed Mahmoud Ahmadinejad's opponent, MirHosein Mousavi.

On a higher note, two journalists and a labour activist were released according to Iranian news websites.

Bahman Ahmadi Amouyi was released on a $500,000 bail. He was arrested along with his wife on June 20 of last year and has been sentenced to five years in prison.

The authorities have also released Ali Moazami, another journalist who was arrested two weeks ago.

Abolhassan Darolshafai, an Iranian labour activist and the last detained member of the Darolshafai family was also released from Tehran's Evin prison yesterday on a $100,000 bail.

Iran customarily releases some prisoners on a temporary basis for the New Year celebrations. Some of the detainees of the recent events, who have managed to put up the heavy bails set for them, have thus been temporarily released on the Eve of Nowruz.