RadioZamaneh > Radio Zamaneh in English > Latest News > Former Iranian president barred from travel
| | |
| --- | --- |
| RadioZamaneh | Date of Publish: ۲۶ فروردین ۱۳۸۹ |
Former Iranian president barred from travel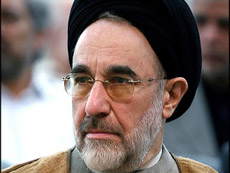 Mohammad Khatami

Iranian authorities have barred former Iranian president, Mohammad Khatami, from leaving Iran, a "knowledgeable source" has informed Parleman news.

Reportedly, the opposition leader was scheduled to leave tonight, Thursday night, to attend the annual meeting on nuclear disarmament in Hiroshima.

The meeting examines the dimensions of the US attack on Hiroshima and looks into ways of creating global cooperation in achieving nuclear disarmament.

The barring of Mohammad Khatami from travel had gotten into the media earlier, however, the rumours were denied.

The latest news regarding Mr. Khatami's travel restrictions has not been confirmed by his office yet.

Mohammad Khatami is one of the opposition leaders who endorsed Mahmoud Ahmadinejad opponent, MirHosein Mousavi in the June presidential elections, and in the post-election events supported the allegations of fraud in the re-election of Ahmadinejad.

In the past months, a number of dissident political and social activists have been barred from travelling abroad.

Iranian passport police has advised travellers to refer to the passport office to make sure there are no official restrictions against their travel rights. In some cases, travellers were informed of the travel restrictions just before stepping on the plane.

Some Iranian attorneys maintain that the government has to formally serve people with these restrictions for them to be valid.