RadioZamaneh > Radio Zamaneh in English > Latest News > Iran Revolutionary Guards to take on oil and gas projects
| | |
| --- | --- |
| RadioZamaneh | Date of Publish: ۴ اردیبهشت ۱۳۸۹ |
Iran Revolutionary Guards to take on oil and gas projects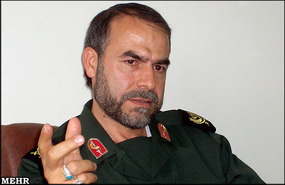 Revolutionary Guards Commander Yadollah Javani

Head of Revolutionary Guards Political Advisory, Yadollah Javani announced that the Revolutionary Guards will take over Total and Shell investments in Iran's oil industry.

Commander Javani told ILNA that the Revolutionary Guards has reached such "capability and power" to take over from the foreign companies.

In December, Hojjatollah Ghanimifard, deputy investments chief of Iran National Oil Company announced that the French Company Total is no longer involved in the 11th stage of the natural gas developments in Southern Pars.

In the past months the US has worked persistently on the international scene to restrict Iran's relations with international oil companies.

It appears that in the absence of international companies, the Revolutionary Guards are willing to replace them in Iran's oil and gas projects.