| | |
| --- | --- |
| RadioZamaneh | Date of Publish: ۷ اردیبهشت ۱۳۸۹ |
Iranian artist wins international Cartoon Award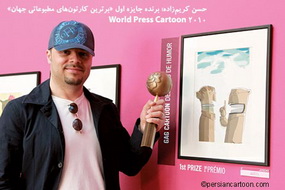 Hassan Karimzadeh

Hassan Karimzadeh, Iranian graphic artist, won the first prize in the Humour Category of World Press Cartoon festival, 2010.

Persian Cartoon reports that Karimzadeh won the prize for a piece titled "Controversy" which was published in the recently banned Iranian newspaper National Trust.

Karimzadeh also won first prize in the Humour Category in 2008 at "World Press Cartoon."

The festival has three categories of humour, editorial and caricature. This year, 24 Iranian graphic artists participated in the event.

Another Iranian artist, Hossein Safi, received an honorary Diploma in the caricatures category. He received the diploma for his caricature of George Clooney which was published in Iranian daily Mashgh Aftab.

Gabriel Ippóliti from Argentina won first prize in the Caricature Category of the festival with his caricature of Valadimir Putin, and Mexican artist, Boligán won the Editorial Category with the work titled "Yes we can."

The ceremony took place on April 16 in Portugal and 400 selected works are now being exhibited at the Museu de Arte Moderna in Sintra from Aril 17 to July 4th.