RadioZamaneh > Radio Zamaneh in English > Latest News > Iranian hardliners renew attacks on opposition leaders
| | |
| --- | --- |
| RadioZamaneh | Date of Publish: ۱۰ اردیبهشت ۱۳۸۹ |
Iranian hardliners renew attacks on opposition leaders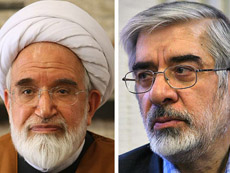 Mehdi Karroubi - MirHosein Mousavi

Islamic Republic hardliners have started a new wave of attacks against MirHosein Mousavi and Mehdi Karroubi following the opposition's rally for demonstrations on the anniversary of the 2009 June elections.

Habibollah Asgaroladi, secretary general of the Followers of Imam and Leadership Front announced that MirHosein Mousavi and Mehdi Karroubi are starting "a new term of unkind provocations."

The two Iranian opposition leaders have rallied election protesters to join a demonstration on the anniversary of the disputed elections of June 2009 which resulted in the controversial re-election of Mahmoud Ahmadinejad.

ILNA reports that Asgaroladi adds: "Mr. Karroubi and Mr. Mousavi reveal a new act in their relationship with outsiders and liberals and this way they distance themselves from the Revolution and the path of Imam (late founder of Islamic Republic, Ayatollah Khomeini)."

He accused Mehdi Karroubi of spreading conflicts and disrupting national security and unity saying: "they are directing the dialogue of sedition and disruption amongst the people."

Asgaroladi claimed that the two reformist organizations, Islamic Iran Participation Front and Mojahedin of Islamic Revolution have lost their legitimacy and are trying to "spread secularism and liberalism by distorting the principles of Islam."

The two named reformsit organizations endorsed MirHosein Mousavi in the 2009 elections and in the past eleven months, scores of their members have been arrested and handed heavy prison terms. The Ministry of Interior has also banned the activities of both political parties.

MirHosein Mousavi and Mehdi Karroubi were also the target of attacks by Mohammad Javad Ardeshir Larijani, deputy to the Head of Judiciary who spoke in Qom on Thursday.

The Islamic Republic hardliner also denounced Ayatollah Rafsanjani, Chairman of the Assembly of Experts who has aligned himself with the reformists in calling for renewed elections and condemning violence against protesters and political prisoners.

Qom which is considered the headquarters of Iran's clergy has been getting visits from both camps of pro-government and reformist political figures in the past months. The disputes over the alleged fraud in the elections and the widespread protests has also caused a rift in the Iranian clergy with some lending their support to protesters, and others beating the drum of the establishment.