RadioZamaneh > Radio Zamaneh in English > Latest News > Iranian labour organizations announce their demands
| | |
| --- | --- |
| RadioZamaneh | Date of Publish: ۷ اردیبهشت ۱۳۸۹ |
Iranian labour organizations announce their demands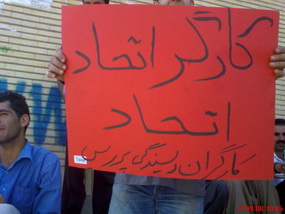 Ten Iranian labour organizations issued a joint resolution stating their demands at the threshold of the International Workers' Day on May 1.

The resolution, which was published in the Vahed Transportation Workers Union website, criticizes the harsh condition of workers in Iran and states 15 demands to improve the situation.

"The right to form independent organizations, wage increase, halting the government program to cut subsidies, ending capital punishment and child labour" are amongst the many labour resolutions demanded from the government.

The announcement maintains that workers are entitled to an adequate standard of life that matches with current human standards because they are "the main producers of wealth."

According to the statement, in the past 30 years, workers wages have been cut to "a quarter of the amount below the poverty line" in Iran and in many cases workers have been laid off, their permanent jobs have been replaced with temporary contracts and even their wages have been held back.

The Islamic Republic has also been condemned in this resolution for incarcerating workers for "defending their basic human rights."

The 10 labour organizations also announce their support for "all freedom seeking social movements" and the demands of teachers, nurses and other "working strata" of the country.

Iranian workers also condemn all forms of "discrimination" against immigrant labourers, especially Afghani workers.

In conjunction to the workers' unions' resolution, the Council of International Workers' Day events has also called on people to join the demonstrations on May 1.

Participants are invited to join the events on Saturday at 5p.m. in front of Ministry of Labour.

The Council has also issued a series of eight demands including "immediate release of political prisoners, wage increase and freedom of independent organizations" in its announcement.

The Council maintains that it will struggle for the realization of these demands not only on May 1 during the demonstrations but at all times and places.