RadioZamaneh > Radio Zamaneh in English > Latest News > Iranian MP reveals: no probe into university attack
| | |
| --- | --- |
| RadioZamaneh | Date of Publish: ۷ اردیبهشت ۱۳۸۹ |
Iranian MP reveals: no probe into university attack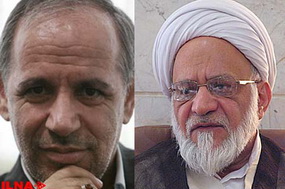 Jamshid Ansari - Gholamreza Mesbahi Moghaddam

Jamshid Ansari, member of the Minority Faction of Iran's Parliament announced that despite previous claims, the parliament has initiated no probe into the attack on the university dorm of Tehran University.

ILNA reports that in a debate with Gholamreza Mesbahi Moghaddam at Tehran University, Jamshid Ansari responded to a question from the students saying: "You should not expect any report from the parliament regarding this matter because no committee has been assigned to this task, neither by the speaker nor by the parliament."

Earlier the parliament had announced that a committee headed by Mohammad Hossein Aboutorabifard is investigating the attack on the university dorm.

On June 15, 2009, a few days following the controversial victory of Mahmoud Ahmadinejad at the presidential elections, Special Forces and forces in plain clothes entered the university campus and subjected students to severe beatings.

Student organization Consolidation Bureau announced that five people were killed and scores were injured in this attack.

In December, Persian BBC released a film documenting the attack at University of Tehran revealing the armed forces had attacked the university under commands from police chief, Commander Azizollah Rajabzadeh.

Ten years ago, a similar attack at the student's dorm caused a fierce political scandal in Iran. Reportedly, the more recent attack was far more violent and widespread than the last attack.