RadioZamaneh > Radio Zamaneh in English > Latest News > Iranian opposition wants permit for peaceful demonstrations
| | |
| --- | --- |
| RadioZamaneh | Date of Publish: ۷ اردیبهشت ۱۳۸۹ |
Iranian opposition wants permit for peaceful demonstrations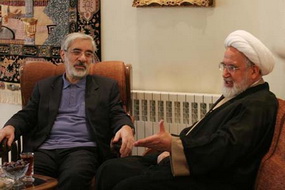 MirHosein Mousavi with Mehdi Karroubi

Iranian opposition leaders MirHosein Mousavi and Mehdi Karroubi have called on all Iranian reformist organizations and groups to apply for a permit to hold peaceful demonstrations on June 12.

According to Saham news, Mehdi Karroubi's National Trust Party website, the two opposition leaders met on Monday morning and urged all reformist organizations to put an application to the Ministry of Interior for demonstrations on the anniversary of the tenth presidential elections, on the basis of Article 27 of the Constitution and regulations regarding legal rights of political organizations in the Islamic Republic.

Mehdi Karroubi had already announced on Sunday that he has put in an application for this permit.

Two major reformist organizations, Islamic Iran Participation Front and Mojahedin of Islamic Revolution of Iran have been recently banned by the Article 10 Commission of political parties and a demand for their dissolution is currently at the judiciary.

The offices of National Trust Party were also closed down last year but it has not been officially banned from political activity.

18 political parties and organizations had participated in the Coordination Council of the Reform Front and government supporters have accused these organizations of conspiracy to topple the regime; a claim which has been vehemently denied by all reformist organizations and leaders.

MirHosein Mousavi condemned the spread of the conspiracy paranoia and Mehdi Karroubi echoed Mousavi's concern that the establishment in involved in blatantly false accusations.

The opposition leaders also spoke out against the dire conditions of workers across the country and accused the government of mishandling the economy.