RadioZamaneh > Radio Zamaneh in English > Latest News > Karroubi says Iranian opposition becomes "more resistant"
| | |
| --- | --- |
| RadioZamaneh | Date of Publish: ۶ اردیبهشت ۱۳۸۹ |
Karroubi says Iranian opposition becomes "more resistant"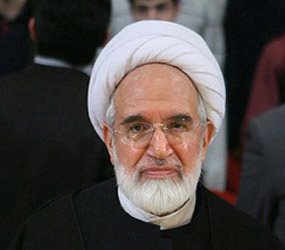 Mehdi Karroubi

Iranian opposition leader, Mehdi Karroubi condemned the "new wave of psychological wars" waged on the opposition by Islamic Republic extremists but assured that the opposition will merely become more resistant with the growing pressures.

Speaking to a group of former Iranian lawmakers, Karroubi maintained that resistance against "violation of the law will bring the extremists to their knee and lead the nation to victory."

Secretary-general of the National Trust party warned that extremists are even plotting against his life, as well as the life of the other chief Iranian opposition leader, MirHosein Mousavi.

He claimed the extremists fear "spread of awareness within the nation" and make every effort to keep people in "isolation from the news."

He urged supporters of the Green Movement to combat this "psychological war" with greater effort to spread information and awareness in the society.

The government has stepped up pressure on the two main opponents of Mahmoud Ahmadinejad in the political arena. Even members of the Minority Faction of the Parliament have been attacked and threatened for paying visits to these leaders on the occasion of the Iranian New Year.

Karroubi interpreted such reactions against the MPs as a violation of their rights and an affront to the dignity of their office.

Karroubi contended: "A certain group has no regard for the appropriate management of the affairs of the country but is rather more interested in sinking the country day by day in a deeper crisis."

In the past week, State media have reported that Mehdi Karroubi is suffering from "terminal cancer."

Fatemeh Karroubi, Mehdi Karroubi's wife, has announced that his husband is in perfect health and such announcements can only be overtures to an attack on her husband's life.