RadioZamaneh > Radio Zamaneh in English > Latest News > Larijani accuses Ahmadinejad of offending regime's dignity
| | |
| --- | --- |
| RadioZamaneh | Date of Publish: ۱۶ فروردین ۱۳۸۹ |
Larijani accuses Ahmadinejad of offending regime's dignity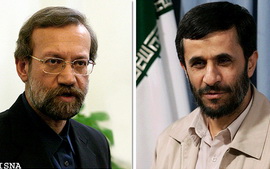 Ali Larijani - Mahmoud Ahmadinejad

Ali Larijani criticized Ahmadinejad's statements regarding the government subsidy law as "unfitting for the dignity of the Islamic Republic regime."

In March, on a television program Ahmadinejad declared that because the government has failed to convince the parliament through "logic and reasoning," he would call for a referendum on the changes that the parliament had made to his proposed bill for cutting subsidies.

Ali Larijani, speaker of the parliament, in response to a letter from Mahmoud Ahmadinejad calling for further cooperation from the parliament, said "It is in no way befitting of the dignity of the Islamic regime that after a bill is passed by the house and become law, the executive branch expresses its refusal to follow it in such a manner."

He maintained that in accordance with the recommendations of Ayatollah Khamenei, the parliament is ready to resume expert discussions with the government regarding the cuts to government subsidies.

The Speaker has also asked Ahmadinejad to state his predictions regarding inflation in the two possible cases of making cuts that would save $40 billion for the government as proposed by Mahmoud Ahmadinejad, and making cuts to a value of $20 billion which is what the parliament has approved.

The government is also called upon to announce their predictions regarding the country's economic growth in each of these scenarios.

The struggle over the sensitive issue of cutting government subsidies continues as the majority of the lawmakers fear a sudden rise in inflation, and the government is trying to secure greater savings in preparation to possible further UN sanctions.

Two committees representing the parliament and the government have been assigned to discuss the cutting of subsidies and their first meeting will take place tomorrow.