RadioZamaneh > Radio Zamaneh in English > Latest News > UN Human Rights High Commissioner to visit Iran
| | |
| --- | --- |
| RadioZamaneh | Date of Publish: ۵ اردیبهشت ۱۳۸۹ |
UN Human Rights High Commissioner to visit Iran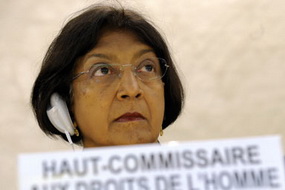 U.N. High Commissioner for Human Rights, Navi Pillay

Navi Pillay, U.N. High Commissioner for Human Rights, who has expressed concern about Islamic Republic's violent confrontation with protesters of last year's presidential elections, has announced that she would pay a rare visit to Iran next year.

Reuters reports that last month Pillay announced that they had talked with Islamic Republic officials regarding the deteriorating human rights situation in Iran and suggested that the Human Rights Council representatives should visit Iran.

Pillay, who is a former UN war crimes judge, told Reuters: "Next year will be my formal visit to Iran."

The Islamic Republic, which dismisses all international criticism of its human rights record, has made no immediate response to Pillay's announcement.

On Friday, Islamic Republic officials announced that they have withdrawn their controversial bid for membership in the Geneva-based UN Human Rights Council following an agreement with Asian countries.

ILNA reported that Ramin Mehmanparast, spokesman for Iran's foreign ministry announced Tehran has agreed with Asian countries that Iran will instead seek membership in a women's rights body instead.

Iran's violent confrontation with protesters in the past ten months has sparked international criticism. In December, the UN General Assembly condemned Iran's violent crackdown on protesters in Ashura Day protests.

Iranian authorities have arrested thousands of people to quell protests against the re-election of Mahmoud Ahmadinejad which protesters claim was fraudulent. More than 80 political prisoners have been sentenced to prison terms of up to 15 years. Two people were even executed in connection with the protests.

The authorities claim the elections were completely legitimate and contend that the protests are a foreign-backed conspiracy to topple the Islamic Republic regime.