RadioZamaneh > Radio Zamaneh in English > Latest News > Iran's Kurdish regions on strike in protest to executions
| | |
| --- | --- |
| RadioZamaneh | Date of Publish: ۲۳ اردیبهشت ۱۳۸۹ |
Iran's Kurdish regions on strike in protest to executions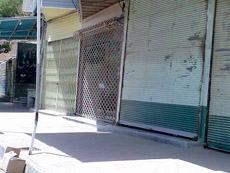 The stores and businesses of Sunni areas of the Kurdish regions of Western Iran are closed today in protest to the recent execution of Kurdish political prisoners in Tehran.

In the cities of Sanadaj, Marivan, Baneh and Kamyaran in Kurdistan province, and Mahabad, Boukan and Oshnouyeh in Western Azerbaijan province as well as other regions, reportedly numerous stores have closed their doors to business in protest, and the cities have assumed a security atmosphere.

In some cities such as Kamyaran, where the hanged teacher Farzad Kamangar was from, students have gone on strike and the city streets are deserted.

Farzad Kamangar, Ali Heydarian, Farhad Vakili and Shirin Alam Holi were the four Kurdish prisoners who were hanged in Tehran on Sunday along with Mehdi Eslamian.

Opposition groups in the Kurdish regions of Iran urged people to participate in a public strike to protest against the sudden and unannounced hangings. Reportedly there has been widespread response to the rally and the city centres are deserted today and police and security forces are on alert in the region.

Images of deserted cities in Western regions of Iran which have gone on strike in protest to the executions:



Reportedly, on Wednesday, security forces had summoned union officials to warn them against participation in any strikes.

Yesterday Human Rights Watch condemned the execution of five prisoners and warned that 17 other Iranian Kurds are in imminent danger of execution in Iranian prisons.

They also reported that the remains of the four executed Kurds have not yet been delivered to the families for burial.

Iran's opposition leaders MirHosein Mousavi and Mehdi Karroubi have also spoken out against the executions.

Mehdi Karroubi announced that the five people were executed while their charges were not proven beyond a doubt and the very fact that the executions were carried out without proper notification to the attorneys and families of the detainees goes to show that "justice was scarce and the current procedures do not coincide with legal and Islamic principles."