RadioZamaneh > Radio Zamaneh in English > Latest News > Suspended Iranian students rallied to defend rights
| | |
| --- | --- |
| RadioZamaneh | Date of Publish: ۷ خرداد ۱۳۸۹ |
Suspended Iranian students rallied to defend rights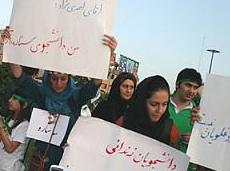 Iran's Council of Defence of the Right to Education issued a statement to urge all students that have been suspended from university to contact the Council with their information for further action.

Despite good performance in their exams, some student activists, who are referred to as "starred" students, were suspended from continuing their university education last week after the results of the graduate exams were released.

The Council of Defence of the Right to Education condemned the establishment's policy of extending the right to education only to those they favour.

The Council adds that the "starred" students have gathered "so that their systematic omission from the country's universities could not be carried out in silence."

The Council of Defence was established two years ago by a number of suspended university students. In the last presidential election in 2009, the Council was active in highlighting the demands of the suspended students in the presidential campaign.

Following the presidential elections, a number of their active members were arrested and sentenced to heavy imprisonment terms.

Ziaeddin Nabavi, Majid Dorri, Shiva Nazarahari, Peymon Arref, Mehdieh Golrou and Samieh Rashidi are some of the Council activists that were arrested last year.

While Ziaeddin Nabavi and Majid Dorri have been sentenced to imprisonment; the other members of the Council are awaiting their sentences behind bars.