RadioZamaneh > Radio Zamaneh in English > Latest News > 91 people arrested in Tehran on protest anniversary
| | |
| --- | --- |
| RadioZamaneh | Date of Publish: ۲۳ خرداد ۱۳۸۹ |
91 people arrested in Tehran on protest anniversary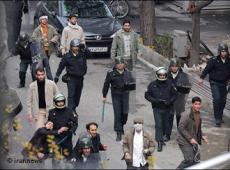 Commander of Tehran Security Forces announced today that 91 people were arrested in Saturday's gatherings in Tehran.

Hossein Sajedinia told ISNA: "Throughout yesterday nothing particular happened in the capital and a limited number of people, about 91 suspects, were arrested by the police and delivered to the judiciary."

Ahmadreza Radan Deputy Commander of Security Forces told ILNA yesterday that only a few people were arrested yesterday and they "had been deceived by anti- Revolutionary television and internet networks."

He claimed that the detainees intended to "disturb public order and security" and added: "Despite high volume of advertisement in anti-Revolutionary television and internet networks to bring opportunist elements to the streets and squares of Tehran, they were defused by the high understanding and foresight of our dear compatriots and nothing special happened."

Yesterday the media reported scattered conflicts in Tehran. Eyewitnesses reported the heavy deployment of security forces in Tehran and even tear gas being thrown by anti-riot police in Taleghani Street.

Opposition leaders, MirHosein Mousavi and Mehdi Karroubi had applied to the Ministry of Interior for a permit to hold a march of silence on June 12.

Tehran Governor, Morteza Tamaddon had dismissed the application and warned that any illegal gatherings will be confronted by the authorities.

Mousavi and Karroubi cancelled their rally call in order to avoid any harm to the protesters.

Hundreds of protesters were arrested yesterday in Tehran according to some unconfirmed reports which also say that some of the detainees were released early this morning.

June 12 was the anniversary of the controversial presidential elections of 2009 which gave Mahmoud Ahmadinejad another term at the presidency amidst allegations of ballot fraud and became the starting point for widespread street protests. Tens of people died in these street protests with the violent intervention of government forces.