RadioZamaneh > Radio Zamaneh in English > Latest News > Iranian opposition leaders warned against attending ceremony
| | |
| --- | --- |
| RadioZamaneh | Date of Publish: ۱۳ خرداد ۱۳۸۹ |
Iranian opposition leaders warned against attending ceremony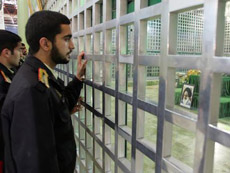 Ayatollah Khomeini's Tomb

Islamic Republic state media have warned opposition leaders MirHosein Mousavi and Mehdi Karroubi against attending the commemoration service for the late Ayatollah Khomeini, founder of the Islamic Republic.

Resalat daily reported yesterday that the opposition leaders have been advised by their aides to refrain from attending the said ceremony.

The pro-government newspaper writes: "Karroubi and Mousavi aides have seriously advised them that on June 4, they should not show their face around Imam Khomeini's tomb because people and the Leadership are angered by their insensible actions and if they appear in the people's gathering they are certain to be confronted with people's anger and objection."

This Friday, Ayatollah Kahmenei, Iran's current Supreme Leader will lead Tehran's Mass Prayers at the Tomb of Ayatollah Khomeini.

Mahmoud Ahmadinejad is also supposed to give a speech prior to Ayatollah Khamenei's sermon and the grandson of Ayatollah Khomeini, Hassan Khomeini will greet the attendants at the start of the ceremony.

Reportedly 12 mobile police headquarters will be deployed around the Tomb of the founder of the Islamic Republic "for the security of the ceremony."

The authorities have also reported the deployment of security choppers to supervise traffic in the area and provide security.

The commemoration service for Ayatollah Khomeini is usually held for three days at his tomb but this year in view of the year of protests, the government has limited the event to a single day.