RadioZamaneh > Radio Zamaneh in English > Latest News > Iranian opposition leader attacked in Qom
| | |
| --- | --- |
| RadioZamaneh | Date of Publish: ۲۳ خرداد ۱۳۸۹ |
Iranian opposition leader attacked in Qom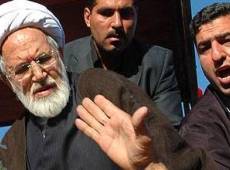 Mehdi Karroubi under attack

Iranian opposition leader, Mehdi Karroubi was attacked today during a visit a visit in Qom.

Hossein Karroubi, the opposition leader's son informed Jaras website that a crowd of close to a hundred people wielding chains, batons and sticks attacked Mehdi Karroubi's car which was "completely destroyed" in the attack.

Hossein Karroubi claimed: "Their behaviour and their manner of gathering made it clearly evident that they were not acting arbitrarily and were rather organized and directed by a specific group."

Mehdi Karroubi has gone to Qom to meet with a number of senior Shiite clerics as well as Seyed Hassan Khomeini, the grandson of the late founder of the Islamic Republic.

A group of pro-government forces in plain clothes gathered at the home of Ayatollah Yousef Sanei while Mehdi Karroubi was inside meeting with the senior reformist cleric.

Ayatollah Sanei has been the target of a series of mob attacks in the past year for his repeated support of post-election protests.

Mehdi Karroubi has been the target of many similar mob attacks in the past year.

Iranian establishment has branded Mehdi Karroubi and MirHosein Mousavi with the title of "heads of sedition" for their refusal to accept the legitimacy of Mahmoud Ahmadinejad's re-election and for their persistence in allegations of election fraud.