RadioZamaneh > Radio Zamaneh in English > Latest News > Iranian reformist groups apply for demonstration permit
| | |
| --- | --- |
| RadioZamaneh | Date of Publish: ۱۳ خرداد ۱۳۸۹ |
Iranian reformist groups apply for demonstration permit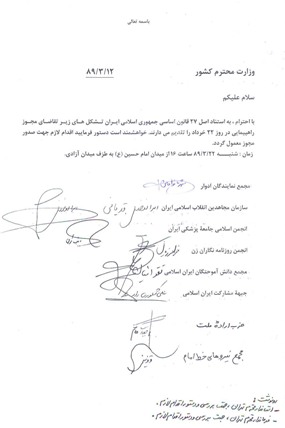 Letter to Ministry of Interior

Eight Iranian reformist organizations in a joint letter urged the Ministry of Interior to issue a demonstration permit for the anniversary of last year's controversial elections.

MirHosein Mousavi and Mehdi Karroubi, the two disputing candidates of the elections, also applied for a demonstration permit together on Monday.

Parleman News reports Islamic Iran Participation Front, Mujahedin of Islamic Revolution of Iran, Society of Islamic University Alumni of Iran, Society of Former Lawmakers of Iran, Islamic Association of Iran's Medical Society, Association of Women Journalists, Nation's Will Party and Society of Imam's Path Forces are the eight organizations that evoke Article 27 of the constitution in demanding the issuance of a demonstration permit from the Islamic Republic authorities.

The letter has also been sent to the office of Tehran Governor which they have declined saying they only have permission to issue permits for indoor gatherings.

According to the reformist organizations, they plan to hold the demonstrations from Imam Hussein Square to Azadi Square.

The presidential elections of 2009 became the starting point of widespread protests and turmoil in Iran after Mahmoud Ahmadinejad opponents announced the ballot was rigged. Two disputing candidates, MirHosein Mousavi and Mehdi Karroubi keep denying the legitimacy of the government risen from the June elections and have vowed to use every legal mean to fight against it.

Article 27 of the Iranian Constitution allows gatherings and demonstrations so long as it does not disturb Islamic principles and the demonstrators carry no weapons.

Several rally calls for the anniversary of the controversial elections have also been issued in various websites of other major cities of Iran.