RadioZamaneh > Radio Zamaneh in English > Latest News > Opposition leader says Revolutionary Guards will benefit from Iran sanctions
| | |
| --- | --- |
| RadioZamaneh | Date of Publish: ۲۰ تیر ۱۳۸۹ |
Opposition leader says Revolutionary Guards will benefit from Iran sanctions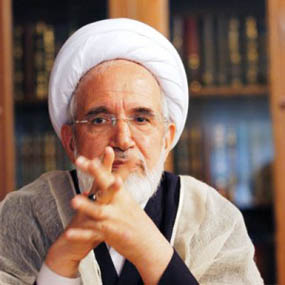 Mehdi Karroubi

Iranian opposition leader, Mehdi Karroubi criticized "incompetence" and "weak-minded statements" of Iranian officials for causing the latest sanctions against Iran and added that a part of the establishment and the Revolutionary Guards will reap "astronomical" profits from the sanctions.

Karroubi says that the "weaker classes of the society" will bear the burden of sanctions and the profiteering of the Guards.

In a visit with the families of post-election detainees, he once more maintained that the Islamic Republic has lost its "republic" and "Islamic" aspects and stressed that "the basis of the people's unity" is the constitution and its potentialities.

However, he added that the constitution is not written in stone and needs to be adapted.

Kaleme website reports that the secretary general of National Trust Party also criticized Mahmoud Ahmadinejad and said that the "number one person of the executive branch" has become so "willful" that he dismisses the parliament.

He condemned Ahmadinejad's disregard for the parliament as "irreverence" to the republic and "lack of respect" for the people. Karroubi's reference is to Ahmadinejad refusing to execute three approved laws of the parliament.

Karroubi went on to accuse the Islamic Republic government of ruling the country with its "club-wielders" through creating "fear and intimidation."

The opposition leader expressed optimism regarding the opposition movement of the people saying that the people's protests have entered homes, schools, universities and the various classes of the society and with the expansion of social networks; it has expanded people's awareness.

He described this course of action as "wise" and "sensible."

The head of the National Trust party went on to accuse the establishment of inciting the international sanctions against Iran and emphasized that a section of the government along with the Revolutionary Guards will reap astronomical benefits from these sanctions.

He claimed that the lower classes will bear the pressure of the sanctions and the general public will bear the loss.

The United Nations Security Council approved a new set of sanctions against Iran in a resolution it passed on June 9, 2010. The US, Canada, Australia and a number of other countries have also gone on to impose their own unilateral sanctions against Iran on top of the UN sanctions.