RadioZamaneh > Radio Zamaneh in English > Latest News > Iranian labour activist receives another trial
| | |
| --- | --- |
| RadioZamaneh | Date of Publish: ۱۵ مرداد ۱۳۸۹ |
Iranian labour activist receives another trial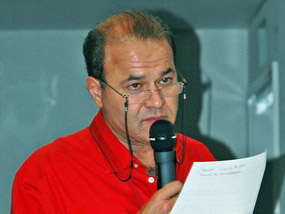 Mansour Osanloo

Mansour Osanloo, head of Tehran's Vahed Bus Transit Union received another trial today at Karaj Revolutionary Court.

Human rights activists report that the trial lasted an hour and Osanloo's lawyer was not present at the session. Reportedly Osanloo's attorney was not even informed about the trial date.

Osanloo is charged with "links to dissidents of the regime" and the trial takes place while he is already serving out an imprisonment term from his first trial.

The labour activist and his family have been the target of greater pressure in the past months. He was recently transferred to solitary confinement and his family was also the target of government attacks.

Zoya Samadi, Osanloo's daughter-in-law was kidnapped and beaten by Islamic Republic security forces. Days after this incident, Osanloo family announced that she had a miscarriage as a result of the attack.

Mansour Osanloo was arrested in 2007 without a warrant. He was later tried for the charge of "activities against national security and propaganda against the regime" and sentenced to 5 years in prison.

Mansour Osanloo is currently in RejaiSjahr Prison in Karaj and is suffering form eye, lung, back and skin complications. The State physician has announced repeatedly that he is not fit to serve out his sentence.

On May 22, the International Labour Organization announced that Iran's Head of Judiciary has officially announced that he has approved Osanloo's pardon.